With a 300+ acre estate consisting of gardens, organic fields, woods and ponds, it is no surprise that there is great diversity of animals and birds here at La Grande Noë.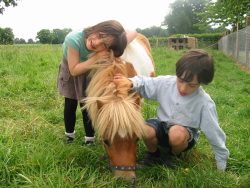 In the 15 acre park that surrounds the chateau you can find red deer, roe deer, badgers, foxes, red squirrels, hares and rabbits and of course birds. On the farm side you will see deer regularly (there are several families) and very occasionally wild boar.
The 1km "tour du park" is a beautiful walk and if you are lucky enough you will see the deer (the best times are the early mornings or in the evening) – our treehouse guests stand the best chance of seeing the deer and of course waking up to the morning birdsong in a treehouse is something special.
Our estate is rich with bird life and because we have many old stables and barns we are spoilt with an abundance of nesting swallows along with pairs of black redstarts and of course barn owls.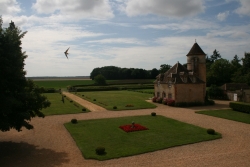 Rather than cutting down all the dead trees we have left a number in our parks to attract insect and bird-life. The tapping of woodpeckers is regular noise here.
Spring and summer birds include chaffinch, chiffchaff, blackcap, sparrows and tits.
There are also herons, storks, wild ducks, woodpeckers, partridges, pheasants, hawks, kestrels, buzzards and owls. You will hear the hooting of the tawny owls and the shrieks of the barn owls in the evenings.
Our ponds attract wild-ducks and frogs while the woods in spring are alive to chirrupping crickets and cicadas.
We also keep bee hives.
From 2012 our farm is officially organic. The change in wildlife on the farm has been remarkable with the insects and honey bees returning to our fields, followed swiftly by the animals and birds that feed on them.
Pascale and Sophie have a number of horses and ponies which you will find in the paddocks. Sophie is a member of the French national pony and carriage driving team and you will find her working with her ponies on the grounds.
On the farm we have an animal paddock which you may visit. There you will find our mini Shetland pony Vicky, the goats and their 2 kids, rabbits, guinea pigs, the chickens and their chicks and a duck.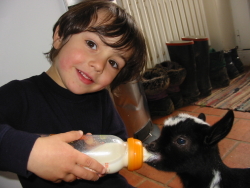 And of course three dogs and two cats.
The Grande Noe is a fabulous place for animals and lovers of animals.
Last update : 30/05/2012